Newport High School, Newport OR
Class of 1963
Please scroll all the way down this page, so you don't miss any announcements...
:
UPCOMING EVENTS:
"
Almost
Always the 3rd Saturday of the month, 9:30 A.M."
Class of 1963 Monthly Breakfast:
Saturday May 19, 2018, 9:30 A.M.

Elmer's Restaurant

2802 Santiam Hwy

Albany, Oregon
------------------------
WHAT'S NEW ON THIS SITE?
May Breakfast Photo
NHS Band Picture, Latest News
April & May Financial Reports
---
ANNOUNCEMENT!
We WILL have a 55th Reunion, thanks to
Frank, Beth and Ruth !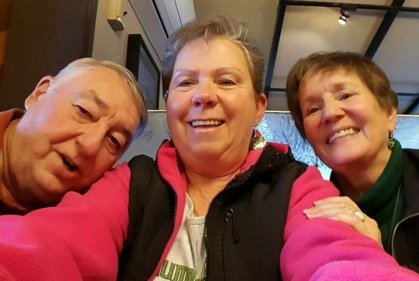 So--mark your calendars for the date:
Friday and Saturday, August 3 & 4, 2018
in NEWPORT!
Friday evening at the Embarcardero on the Bayfront
Saturday afternoon at the South Beach Marina Building
(Saturday afternoon at same location as we had for our 50th reunion)
If you are reading this and you did NOT yet receive a second notice about the reunion via either email or snail mail, please contact us at newportcubs63@yahoo.com!
And, stay tuned for more details to come soon.
THANK YOU, Reunion Committee!!
---------------------------
This site has had

36,095

visits since we started it in November 2013!
To make it easier for planning our calendars:
Based on our breakfast location history of the past few years, here is a more-or-less schedule that we have begun using for our upcoming breakfasts . It is "more-or-less" because we can always make a change if it seems good to do so. (For example, say if someone who lives farther away than Western Oregon should happen to come through, we are always happy to change our schedule to a date or location so they would be able to join us!!)
ANNUAL REVOLVING BREAKFAST SCHEDULE:
Jan. & July Woodburn or Wilsonville area
Feb. & Aug. Newport
Mar. & Sept. Spirit Mountain, Grand Ronde
Apr & Oct. Tualatin or elsewhere on I-5
May & Nov. Albany
June & Dec. Salem (+Possibly Central OR in Summer?)
The idea is to make the breakfast sites reachable for as many classmates as possible!
Do YOU have other ideas? Other locations where you would like to meet for breakfast? In the past we have tried the Eugene area a few times, but the turnout there was usually low. We have never met in Corvallis, so that is another possibility. Would really like to hear your ideas!
Please contact us at newportcubs63@yahoo.com and let us hear your ideas!
------------------------------
---
Need your help: We have NO pictures in the "Pictures of Years Past" Sections for the 1950s and the 1980s. If you have some that you would like to share, please contact us at newportcubs63@yahoo.com. If you will loan them to Pat, she will scan them & return to you promptly!
If you would like to have a better-quality copy of any of the photos from this site, please "Contact Us" and we will be glad to email the digital file to you! PPH
---
Other websites of interest :
"Lost in the Fifties" video...thanks to Jeanene's Karl for sending this one in to us!
http://safeshare.tv/w/FEDEwZHZ Xu
---
On Facebook, check out "You Know You're From Newport, Oregon when . . ."
Newport High School Alumni Association: http://www.newporthighalumni.com/
Current news & weather from Newport and Lincoln County:

www.newslincolncounty.com
and www.lincolncountydispatch.com
Lincoln County Historical Society: http://oregoncoasthistory.org/
www.newportfishermenswives.com
http://www.newportchamber.org/
WHAT WAS THE #1 HIT SONG ON THE DAY YOU WERE BORN?
This site will tell you what song was the #1 song on the day you were born.
You can also see a video of the artist singing your birthday #1 hit!
http://playback.fm/birthday-song
~~~
Baby Boomer's eMuseum: http://www.bbemuseum.com/museum/index.php
http://www.pinterest.com/jannetie/1950s-nostalgia/
http://safeshare.tv/w/FEDEwZHZ Xu "Lost in the Fifties" video
Our website now has a connection with Facebook. It is called Class Connection, and there is a link to it in the list of Member Functions at the left. If you have a Facebook account, begin by clicking on the link. Your name should come up (with your picture if you have posted one on your profile). Follow the prompts and use your Facebook name and password to complete the connection. Information posted on this site flows seamlessly to Facebook, and vice versa.
---
Note to folks who are not part of the Class of 1963 but who attended NHS from 1960-1966: If you would like to join our website and your name is not already listed on our guest list located in the

Classmates List

(click on tab at the top of this page) then please let us know by sending an email to

newportcubs63@yahoo.com

.
---
Many thanks to those of you who are helping to work on this site in various ways!
---
Pat Plunkett Holler, your site admin.
---